While social media and mobile apps have been the dominant trend in customer engagement, classical techniques such as SMS should still be part of your comprehensive marketing strategy.
The ubiquitous and affordable nature of SMS levels the playing field between small businesses and multinational corporations and makes it suitable for companies of any marketing budget.
A notable case study in usage of this channel is Silverstone's (home circuit of Formula 1 British Grand Prix) campaign, which involved sending out 45,000 messages to people who signaled interest in past F1 events, right after BBC's coverage of the Monaco Grand Prix. The message was short and to the point: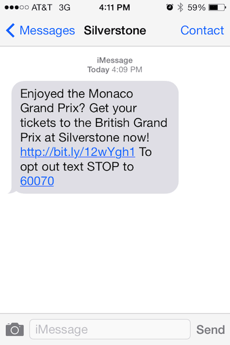 When the recipients clicked the link, they were-taken to a mobile-friendly website for instant ticket purchase. This seemingly simple trick achieved 608% return on investment through ticket sales.
Let's look into the specific advantages of SMS marketing that helped achieve such an impressive result.
Affordable
This is the primary trait of SMS marketing that makes it so attractive for small businesses. For the price of a few cents each, you can send bulk messages to hundreds of phone numbers in your list.
More engaging
More According to ShiftComm's survey 82% of respondents open every text message they receive. Unlike email marketing, you do not have to compete with hundreds of spam messages in users' inboxes. Especially considering the fact that 64% of surveyed customers preferred businesses to use SMS more frequently when interacting with customers, it is definitely worth to integrate text messaging into your marketing efforts.
Increased outreach
Whether your users have an Android smartphone, an iPhone or a vintage cellphone, they are eligible to receive your updates through SMS as long as their device is on. According to the Pew Research Center, 18% of U.S adults own a cellphone, but not a smartphone - that's more than 40 million people you don't want to miss.
Enhanced tracking
SMS operators now offer the possibility to track whether your messages have been delivered, opened and read. This enables you to optimize your campaigns and squeeze more leads for every dollar you spend.
Flexible opt-in and personalization
It is possible to reserve short codes and certain keywords that enable your customers to easily sign up or opt out of your updates with minimal effort. This means your SMS campaigns will be more targeted towards customers with genuine interest in your product/service.
One of the best capabilities of text messaging is enhanced personalization based on interest in different products and even geographical location. The latter tactic, referred to as "geofencing" has been successfully applied by Pizza Hut. By sending out promotional messages to customers who were within a half-mile radius of a Pizza Hut location, the company found this technique 4.4 times more effective than TV ads, and 2.6 times better than online ads.


No Installations or signups
Your customers do not need to perform any installations or create any more accounts to receive your promotions, you don't need to spend a fortune on developing standalone mobile applications and sophisticated web services - signing up for your updates is just a short text away.
Fast
Designing an SMS campaign takes a short amount of time. Considering the absences of any graphical media and the character count limitation, it is only a matter of writing short and engaging texts to send out, meaning your most urgent updates can reach your audience within minutes. Your entire text messaging for business channel can be handled by just one person.
To summarize SMS marketing gives an opportunity to create, schedule, and automate campaigns by using less time and money. This is especially beneficial for small businesses who want to get noticed, build trust among their users and increase their revenue.
Ready to get started? Don't lose your time Sign up now.