The global internet age we live in has opened up many business possibilities. In the past, marketing was very limited to big enterprises that could pay for traditional marketing campaigns, but today any business can market itself online, no matter how big or small it might be.
However, SMS marketing has made a great comeback and has been growing rapidly. SMS marketing has found its place in between digital advertising and traditional marketing, and it can be combined with other types of marketing. There are many reason why SMS marketing is so effective and why it is becoming very popular.
Today we will talk about SMS marketing and how this method of advertising was able to evolve, adjust and become very effective. Mobile marketing might sound like old news, but it can be used as the core of your marketing strategies to get amazing results and this is why it is the future of digital advertising. So let's explore more.
More and more people have mobile phones
Every business has their own target audience, and this could be problematic in certain situations, as the target audience is simply not always suitable for that kind marketing. With SMS services, you will always be able to reach your target audience because everybody nowadays has a mobile phone.
Statistics concerning the number of current mobile phone users show over 60 % mobile device users worldwide. Now you might think that this isn't much, but bear in mind that only 40% of people have an internet connection. On the other hand, the majority of mobile users have smartphones and they use their mobile devices to browse the web on a daily basis.
Every year, this number further increases by 5% and statistics show that this trend is not going to stop anytime soon. The mobile marketing market keeps growing, so there will always be people that businesses and marketers alike can try to reach through their mobile devices and offer them products and services.
SMS marketing can be integrated with email marketing
Even though there is a huge difference between SMS marketing and email marketing, there are also important similarities through which these two can be combined to achieve great results. With a combination of email and SMS marketing services it's possible to deliver the right messages to the right people at the right time.
Both of these marketing techniques allow communication on both sides. This means that consumers can also send back texts or emails. With this kind of communication, it can be much easier to engage consumers. If they are willing to reply and ask questions, you can offer more information and figure out what are their needs.
Text messages that are sent need to be short, accurate, and offer straight-to-the-point information. For example, they can notify consumers about any recent appointment or last minute deals. Emails on the other hand can be longer and used to give more details to customers. By combining these two and using them at the right moments in the buyer's journey you can convert more customers.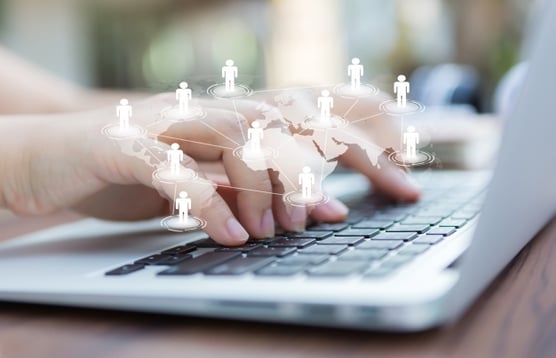 SMS marketing allows you to reach people instantly and directly
Most of the digital advertising channels today need time to take effect and reach people. Even when they do, the interactions could happen on different platforms and in different situations. This could make customers feel like they are not that important or that they are just one in a thousand.
Consumers today like to feel special, and with SMS marketing you are directly speaking to consumers through their mobile devices. Additionally, the text messages are received by potential customers in a matter of seconds. What's great about this marketing method is that you can rest assured that people will read your messages, as everybody opens their texts.
With direct communication, businesses have the opportunity to try and increase the number of direct sales. If you are fast and able to create fluent communication, you will increase the chances of converting leads into customers. All communication managers understand how important this is and they try to make use of similar circumstances as quickly as possible.
With this kind of communication, you can also build customer relationships and increase your customer loyalty that will stay with you for a long time. The fact that text messages are delivered quickly allows you to offer time-sensitive information in an instant and engage users as soon as possible.
SMS marketing has high conversion rates
SMS marketing converts. A text message sent to customers will have a call to action button for them to click on, and the "click-through rate" represents the number of users that click on a hyperlink within a text message.

With a bit more effort, it's possible to create honest relationships with customers, if you offer them what they like. This marketing channel has a great response rate and the reasons for these facts is that text messages are simple, short and they don't annoy consumers. Potential customers get concise information that they can read and understand easily.
Over 90% of text messages are opened, which means that the consumers will always see what you have to offer them. All of the above-mentioned increase the chances of converting people into customers. Even better, text messages can't be marked as spam, although this doesn't mean that you should spam customers with messages.
SMS marketing is quick, approachable and engaging. It's easy to approach customer with this marketing method. An increasing number of SMS marketing initiatives are being explored for creating good text messages that will offer better results. The fact that the number of mobile users is constantly growing is also a clear indicator that text marketing is the future of digital advertising.