It's Halloween already, and that provides you with a great excuse to run Halloween specials. What better way to promote them than with SMS? SMS marketing has now gotten to the point that you can come up with new creative ideas for holiday specials for every time of the year. Your customers will be looking for spooky holiday related items and websites that promote the holiday in a fun way. This provides you with an opportunity to pull your SMS marketing ace out of your sleeve. Now you should be brainstorming and thinking of ways you can leverage your brand with all the creative innovations that SMS marketing brings to the table in order to exploit the season to the max for spooky sales. To help you along with this we have come up with ten creepy ideas to maximize the terror this year with holiday sales.
#1 Facebook -> SMS
Use social media platforms such as Facebook to advertise a Halloween special, promote it with SMS marketing. Encourage your SMS list to come and like your page, and in so doing, offer them free shipping when they order from your website during the month of October.
#2 Send Spooky Questions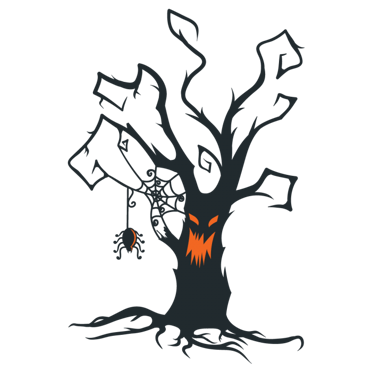 Use Halloween as a good excuse for market research with SMS. Use SMS marketing platform to send spooky questions pertaining to website purchases your customers have made. This way you can gain more insight into their likes and dislikes. Then you can make company or promotional changes accordingly. Never known to fail!
#3 Free Treats
Direct your attention toward up selling to your customers via Halloween trinket giveaways. You could give away free treats or costume accessories when they buy two or more items. Most Halloween themed give away items are very inexpensive so why not?
#4 Live Social Media Event
Send details to clients on your SMS list encouraging them to attend a live social media event. In the event tell your customers to expect random door prizes for responding. Doing this will turn out to be an excellent way at obtaining market research pertaining to your client base.
#5 Ghost Tag
If you operate a store, host a scavenger hunt. Tag certain items with a ghost tag that contains an SMS number they text in for a special deal on that object. It will encourage your customers to come by and claim multiple deals. Also, this will create an interactive environment that will be very appealing to customers to take part in.
#6 "Scary Story Ending" promotion
Run a "scary story ending"promotion. Start a scenario for a scary story, that is left
hanging, have people text in and ending and the best ending wins a special discount
or temporary free trial of your service.
#7 Run a Charity Campaign
Partner up with a local charity and run a campaign where 10 percent of all proceeds during the week of Halloween will be donated. Use your SMS marketing software to spread the word about the promotion.
#8 Trick or Treating
People love Halloween giveaways, it's the time of year for trick or treating,
so free treats are a great idea. Run a free give away of digital resources or
products in a fun way. Throw in a game app that allows them to win different
kinds of Halloween discounts.
#9 "Treat" promotion
Run a show this text and get "Treat" promotion. If you have a physical place of operation, have people come by to draw a paper from a witch's cauldron containing a serial or raffle number that they then text back. Winning numbers get a prize. Don't offer just one big prize, have several mini wins such as a five dollar discount off of their next purchase. Stuff the cauldron with all sorts of Halloween candy also.
#10 Scary Day Special
If you have a physical store, you can host a scary day special. Encourage your list to text something Halloween themed to opt-in, then allow them to take part in the special by texting them a special URL page with discounts. Make sure to decorate with jack-o-lanterns, ghost, and all other sorts of decorations. Have everybody in the company dress up in costumes and have lots of candy lying around, this will give more of an impression on your customers and create a fun memory that will be associated with your company.
Never let a good holiday go to waste! People are in the mood for fun, games, and giveaways. Your creativity combined with the seasonal atmosphere can incorporate these themes to take advantage of this in many different ways. These are just a few ideas off the top of our heads that can be great ways to utilize your SMS platform campaigns to help your company this time of year. If you can think of other spooky specials, just let us know. Feel free to share scary stories in the comments section below.
Use Holiday seasons to run special themes for your SMS marketing campaigns. Taking advantage of Halloween is just another excuse to drive sales. At the same time it will give more of a lasting impression of your company to your clients.