The average person spends almost 7 hours a day looking at a screen; a large majority of that time (3 hours and 16 minutes) is spent on their mobile phones. Why does this matter? With over 80% of the global population owning a smartphone, these statistics indicate the enormous marketing opportunity that mobile phones represent.
SMS marketing statistics show that texting is one of the fastest and most effective marketing channels available today, contributing to its growing popularity.
The SMS marketing facts speak for themselves. When evaluating the use of text messaging for your business, here are the most compelling mobile marketing statistics to know in 2022.
Mobile Usage Statistics
Worldwide, 80.76% of people own a smartphone [1]
It is forecasted that, by 2025, 72% of all internet users will strictly use their smartphone to access the internet [1]
By 2026, mobile users will increase to approximately 7.52 billion worldwide [1]
81.60% of the United States population owns a smartphone. That's about 270 million people! [1]
American teenagers spend 10 more minutes a day on their phones than adults. That is an additional 60.8 hours per year [2]
The average American spends over 3 hours of their day looking at their mobile phone [2]
66% of Americans check their phones 160 times each day [3]
Over ¾ of Americans consider themselves addicted to their phones [3]
15% of American adults don't have traditional home internet service and instead rely entirely on their smartphones for internet access [14]
Top SMS Marketing Statistics
Based on a survey of 500 U.S. consumers, 60% of American consumers check their text notifications within 5 minutes of receiving them [4]
75% of clients want to receive offers (like coupons, promo codes, etc.) through SMS [5]
66% of consumers would like to receive service notifications from a business via SMS [6]
A meager 13% of businesses make it possible for customers to respond to marketing text messages [6]
Customers say they are more likely to opt-in to text messages from businesses in the ecommerce/retail, healthcare, and financial industries [6]
70% of consumers consider SMS marketing an excellent way for businesses to get their attention [6]
Businesses can achieve an 11%-30% increase in customer engagement when using text campaigns geared towards millennials [11]
90% of customers have gained value from SMS loyalty programs to which they are subscribed [13]
Mobile Commerce Statistics
Sales generated from mobile commerce is expected to reach about $432 billion in 2022 [7]
By 2022, mobile commerce is expected to grow 68% [8]
80% of B2B buyers are using mobile devices to purchase products online [9]
90% of consumers report that an excellent mobile experience is likely to prompt a repeat purchase [9]
Globally, mobile commerce makes up almost ¾ of all e-commerce sales [10]
Globally, the mobile coupon industry is expected to grow 56.5% by 2025 [10]
75% of customers complete purchases on their mobile phones [10]
Texting Statistics
83% of U.S. teens used text messaging (over phone calls and social media) to keep in touch during the COVID-19 pandemic [11]
76% of millennials prefer texting because it allows them to check their messages on their own time [12]
9 out of 10 consumers prefer texting with businesses over phone calls [13]
95% of text messages are read and responded to within 3 minutes [13]
Text message recipients open 98% of all messages [13]
SMS Marketing vs. Email Marketing
65% of marketers say SMS marketing is a "very effective" part of their marketing strategy [15]
Nearly 50% of emails are spam [15]
Less than 3% of SMS messages are considered spam [16]
Open rates for text messages (98%) are higher than email open-rates (20%) [15]
The average reader has an attention span of 8 seconds, making SMS a great way to get right to the point [15]
Links in text messages are more likely to be clicked than links in emails (29% CTR vs. 2.5% CTR) [16]
SMS Marketing Infographic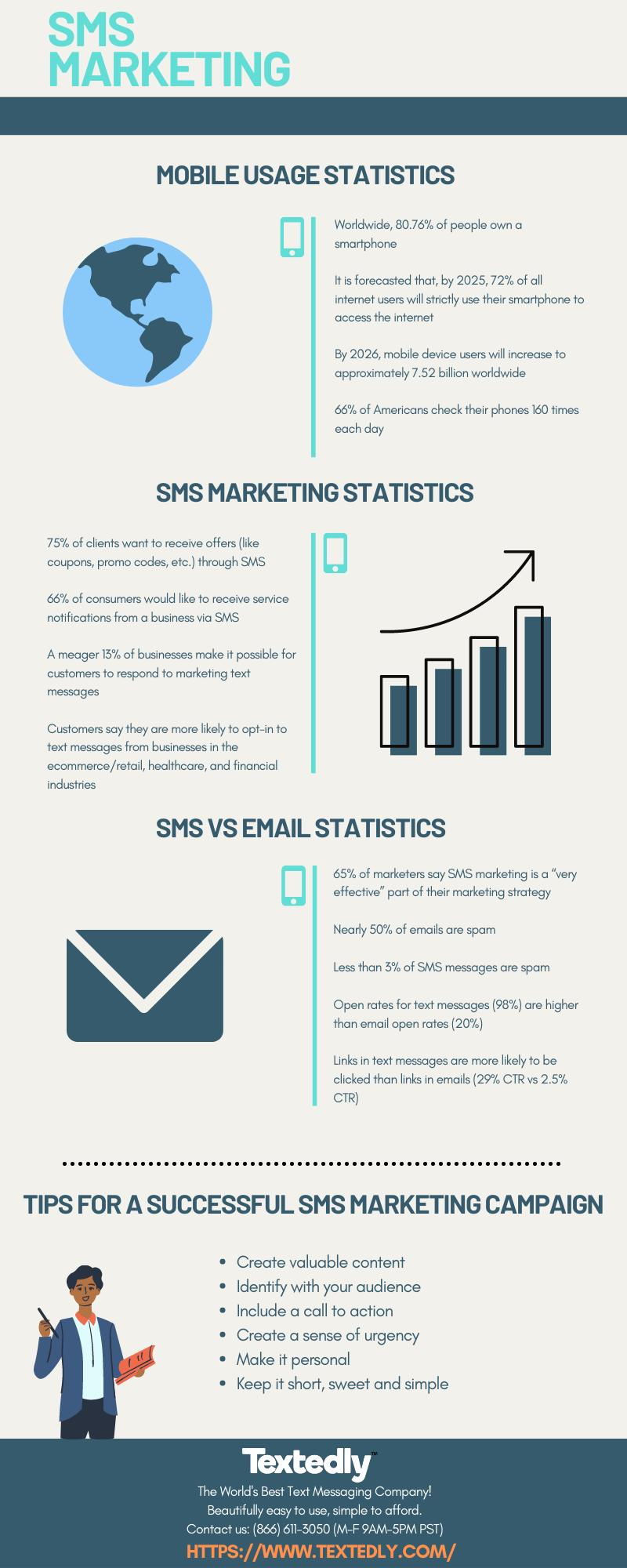 Kickstart Your SMS Marketing With Textedly
Capitalizing on these mobile marketing stats begins with selecting the right software. Whether you're new to text message marketing or want to take your mobile marketing strategy to the next level, Textedly offers the flexibility to accomplish your goal.
Textedly provides simple SMS business solutions that are easy to set up, so you can start messaging your customers today.
Get started with Textedly's free trial to kickstart your SMS marketing campaign.
Sources: