It's no secret that collecting feedback is everything when it comes to improving your business and supercharging your marketing strategies. Research has shown that positive reviews can help you earn consumers' trust, skyrocket conversion rates and boost Google rankings.
There are many ways to get customer feedback, but SMS may be the ideal method. Why? Simply put, most people have their phones on them nearly every minute of the day. According to the Pew Research Center, 96% of U.S. consumers own a cellphone, and 81% own a smartphone.
Sending a feedback request message via text makes it easy for customers to answer a few questions, resulting in consistent, valuable feedback. Today we're sharing nine feedback request message samples you can customize for your business.
9 Customer Review Message Samples
There are many ways to send a review request via SMS. Some of the most popular forms of customer feedback that are perfect for text include:
Below, you'll also find some tips for getting better review submissions from your customers!
1. NPS Surveys
NPS, or Net Promoter Score, is widely used to evaluate customer experiences. The typical format for NPS surveys includes two questions:
On a scale of 0-10, with ten being the highest, how do you rate the business, product or service?

Why did you answer the way you did?
Here's a template for asking customers to participate:
"Thank you for your business, [Customer Name]! We value your opinions and would love to hear about your experience. Follow this link [Link] to fill out a short 2-question survey."




2. Facebook/Google Reviews
Google reviews can improve SEO rankings, help promote your business and earn more customers. It's also super easy for most consumers to leave you a review since they're usually already logged into a Google account. To make the ask, send something along the lines of:
"Hi [Customer Name], thanks for stopping by today! Do you have a minute to leave us a Google review about your experience? Just click here: [Link]. We appreciate you!"
Similarly, Facebook reviews can instill trust in potential customers and win you new business. Rack up an impressive number of positive ratings by sending customers this type of message:
"Thanks for choosing [Company Name], [Customer Name]! We'd love to hear what you think – can you take a moment to leave us a review on our Facebook page? [Link]"
3. Product Reviews
Product reviews are essential for any business that sells products or services online. Use the following templates to solicit glowing reviews that will help you increase sales:
"Hi [Customer Name], we appreciate your business and want to know what you think! Can you take a minute to review our product [Link]? Thanks in advance for your help!"

"[Customer Name], thanks for purchasing our product! We're always working hard to improve – can you tell us what you think? Just click here [Link] to give us your feedback. Thank you!"




4. Review In-Person Visits
If you're in the retail or restaurant business or offer an in-person experience, it's a good idea to ask customers to review your location. Even if visitors don't purchase anything, they can still have valuable insights to share.
"Hello [Customer Name], thanks for your recent visit! We're always looking for ways to improve our in-store experience. Would you mind taking a minute to leave your feedback? Just click here [Link] to review. Thanks!"
5. Customer Service Reviews
Excellent customer service can win you fans for life. Find out how you're doing and how you can improve by asking customers what they think. Just be sure to ask as soon as possible after they've interacted with your business so the experience is still fresh.
"[Customer Name], thanks for shopping with us! We value customer service and want to know how we did. Can you spare a minute to answer one question about your experience? [Link]"
6. Valued Customer Reviews
If you have long-term customers, getting their feedback could be the most valuable of all. Not only is their feedback helpful, but it also lets them know that you value their patronage and want to continue serving their needs.
"Hi [Customer Name], we appreciate your loyalty. Would you be willing to share your experience with our newer customers? Visit [Link] at your earliest convenience and get 20% off your next purchase."
7. Social Media Response Reviews
Have you seen a customer singing your praises on social media? Why not ask if they'd be willing to leave a review on your website? While responding online is fast and easy (and recommended), reaching out via text makes customers feel seen and appreciated.
"Thanks for your recent comment on [Social Media Platform]! Could you help us out by leaving a quick review on our website? It only takes a minute! [Link]."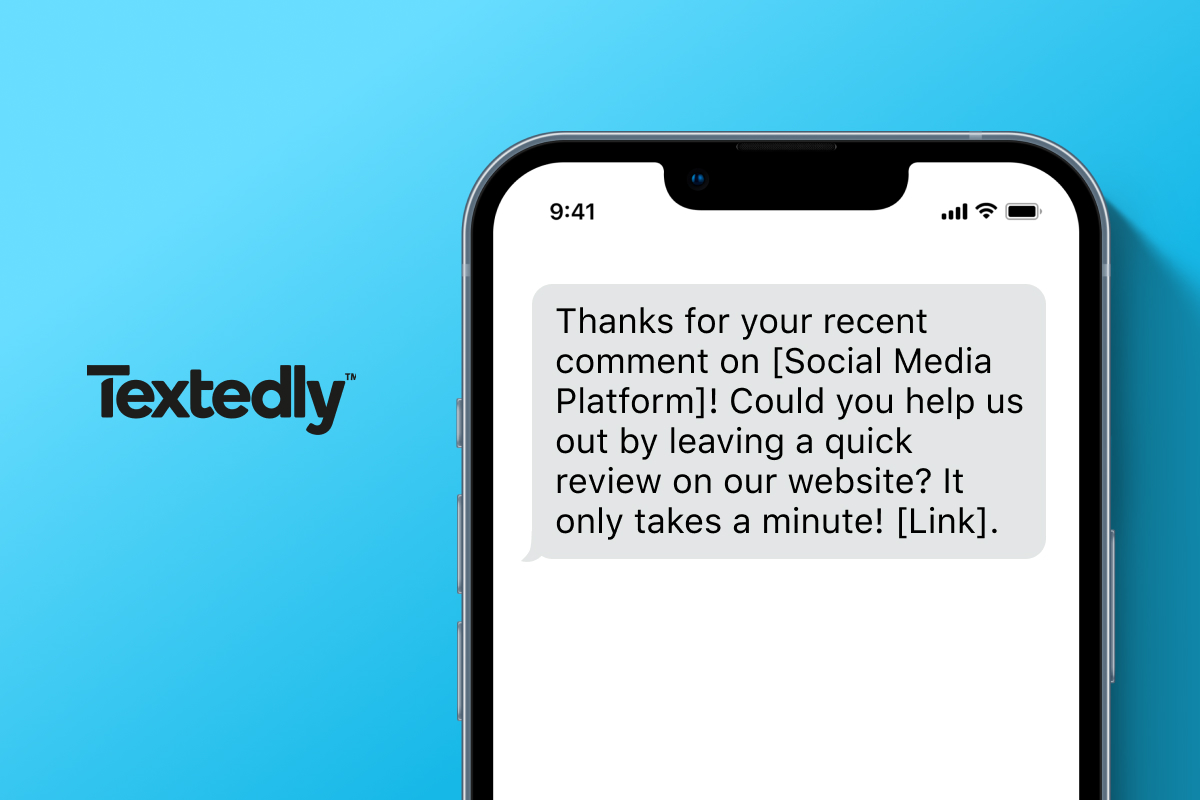 8. Spontaneous Reviews
Getting unexpected reviews is always a pleasant surprise! Make sure customers see that you noticed and appreciate their loyalty.
"Hi [Customer Name], we saw your review in [Source] and are so grateful for your kind words. Would it be possible for you to take a moment and share your experience on our website? [Link]. Thank you so much!"
9. Recommendation Requests
People love to recommend products and services to a friend, and only the best get passed along by word of mouth. Find out whether your business makes the cut by sending the following customer feedback text message:
"Hey [Customer Name], how likely are you to recommend our products/services to others? Share your feedback with a review at: [Link]."
4 Tips for Getting Better Customer Feedback
So what steps can you take to ensure the best results from your efforts? Here are four ways to get the most from your customer feedback outreach.
Set Goals
What are you trying to accomplish? Increase your product offerings? Improve customer service? Knowing your end game will help you craft language that helps customers help you.
Use CTAs
Include a specific call-to-action (CTA) so customers know what to do. Whether you want them to respond to your text, click a link to your website or go to an external survey platform, make the process seamless to keep customers engaged.
Get To the Point
People are busy. If you've enticed them to click a link to answer a survey or leave comments, make it easy for them! A 20-question survey is likely to prompt a quick exit. Keep questions brief and to the point for the best results.
Discover more SMS survey tips in our blog.
Give Thanks
Whatever format you choose for sending a review request via SMS, it's a good idea to send a thank-you message when a customer submits a review.
Use Textedly to Gather Valuable Customer Feedback
Textedly is the easiest way to send 10 or 100,000 bulk SMS messages instantly. As a leading SMS marketing platform, Textedly makes it easy to get customer reviews that can boost your sales by enabling you to:
Collect customer feedback

Gather valuable insights

Link to online surveys
Textedly is trusted by thousands of businesses just like yours. Ready to get started? Sign up for a free Textedly trial today!