If you're looking for auto repair marketing ideas, using SMS to promote and grow your business is a no-brainer — or is it? If you're not taking advantage of the time-saving power of text messaging, you may be putting the brakes on potential business opportunities.
Automotive text message marketing is a simple and cost-effective way to connect with your existing customers, cultivate new customers and boost your auto shop advertising.
Table of Contents
Why SMS works for automotive repair businesses
Auto shop marketing ideas you can start using now
Why SMS Works For Automotive Repair Businesses
Auto-shop advertising once relied on traditional marketing methods like print ads, billboards, and radio and TV commercials. Unfortunately, these methods are often costly and not always effective in reaching the target audience.
SMS marketing has made things easier and more effective for auto shops in a few ways:
SMS marketing lets you send messages tailored to specific groups of customers, like people who've been to your shop before or who've shown an interest in certain services. This means your messages are more likely to be on point, persuading people to take action.
SMS marketing is often less expensive than traditional forms of advertising, making it more accessible for small and medium-sized auto shops.
SMS messages can be sent directly to customers' mobile devices, providing a personal and immediate way to reach them. Plus, with 90% of text messages read within three minutes, you can reach existing and potential customers with just a few clicks.
SMS marketing platforms can send automated appointment reminders or follow-up messages. Automating these tasks can save you time, reduce costly no-shows and increase customer engagement.
SMS marketing makes it easy to keep an eye on how your campaigns are doing and adjust them on the fly. You can track who's getting your messages, who's responding, and what's working, so you can tweak your approach and get the most bang for your buck.
Auto Shop Marketing Ideas You Can Start Using Now
All right, let's dive in! Here are nine marketing ideas that'll help you connect with customers, save time and make more money.
1. Send Coupons and Special Offers
Many consumers avoid preventative auto services that they deem "nonessential." An effective way to target this audience with your auto repair marketing is to send coupons and special offers to your SMS subscriber list. You can even use exclusive discounts to entice customers to sign up to receive text messages from your business.
Here are a few templates you can use:
Get a free tire rotation with your next tune-up! Schedule an appointment at [Auto Repair Shop Name] here: [Appointment Link]
The weather's getting warmer, so prepare to crank up the A/C! Get $15 off your next A/C check until the end of June at [Auto Repair Shop Name]: [Appointment Link]
Not sure if you need an oil change? Bring your car to [Auto Repair Shop Name], and we'll give you 20% off with the code OIL20. Schedule an appointment here: [Appointment Link]
Pro tip: Use unique links or discount codes to see which areas of your auto repair marketing strategy bring you the most customers.
2. Send Service Reminders
Building trust with your customers is a crucial part of marketing for auto repair businesses, and being helpful is an easy way to earn that trust. For example, while most car owners know they need to keep up with regular maintenance checks, they might not know how often to bring their cars into an auto repair shop.
Sending service reminder texts can let your clients know when their cars need service. Here are a few templates you can customize for your shop:
Hi [First Name], your car is due for a maintenance check in 2 weeks. Schedule an appointment at [Auto Repair Shop Name] here: [Appointment Link]
Hi [First Name], it looks like you're due for an oil change! Schedule an appointment at [Auto Repair Shop Name] here: [Appointment Link]
Pro tip: You can easily schedule service reminder texts right after completing a client's appointment, so you don't have to do it later!
3. Send Appointment Confirmations
Missed appointments not only cost your business time and money but can also be frustrating for a client whose car needs repair. Many auto repair shops have started using SMS text messages to send appointment reminders and ask customers to confirm their bookings.
Hi [First Name], this is a reminder for your upcoming appointment on [Day], [Date] at [Time]. Don't forget to bring proof of insurance!
Hi [First Name], you have an appointment at [Auto Repair Shop Name] on [Day], [Date] at [Time]. Please reply with C to confirm your appointment.
Pro tip: Include a link to confirm or reschedule an appointment in your reminder text so your clients can easily make changes if needed.
4. Ask for a Review
Customer reviews play a significant role in auto repair marketing and can encourage potential customers to do business with you.
Text messaging makes it easier than ever for business owners to collect reviews. Simply send a survey link via SMS or create a poll to collect feedback. SMS marketing also makes it easy for customers to reach out if they have questions about their service.
Hi [First Name], on a scale of 1 to 5, how would you rate your recent tune-up by [Employee] at [Auto Repair Shop Name]? 1 - Highly Dissatisfied, 2 - Dissatisfied, 3 - Neutral, 4 - Satisfied, 5 - Highly Satisfied
Hi [First Name], thanks for your recent visit to [Auto Repair Shop Name]! Please take a moment to fill out a quick survey about your experience: [Survey Link]
Pro tip: Schedule SMS surveys to go out within a few days of a completed service so you can get feedback from customers while their service is still top of mind.
5. Ask for Referrals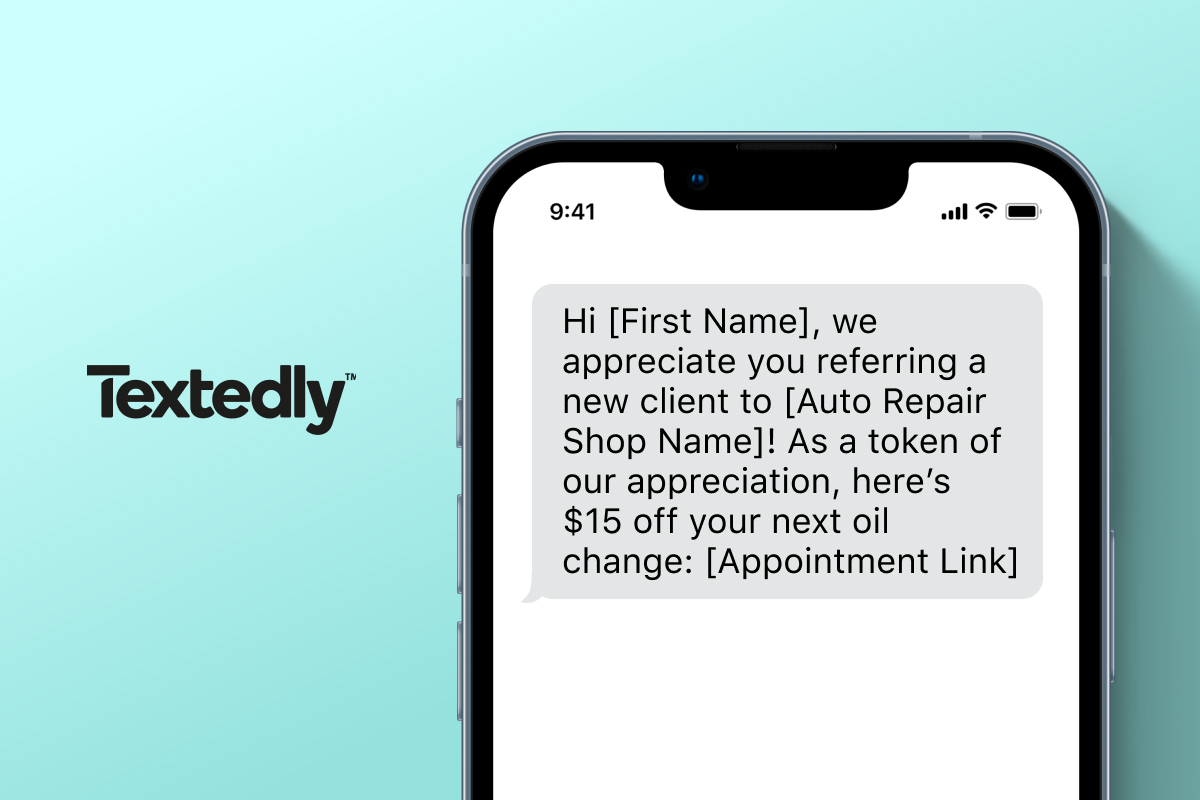 Leverage the power of word of mouth by creating a referral program for your business. Inform your clients that they can receive rewards like free add-on services and special discounts if they refer a new customer to your business.
Here are a few sample text messages:
Hi [First Name], we hope you're happy with your new tires from [Auto Repair Shop Name]! Send this referral link to your friends and family, and you'll get 10% off your next service when someone books an appointment: [Referral Link]
Hi [First Name], we appreciate you referring a new client to [Auto Repair Shop Name]! As a token of our appreciation, here's $15 off your next oil change: [Appointment Link]
6. Send Social Media Invitations
Adding social media marketing to your promotional strategy can make it easier for clients to ask questions and learn more about car maintenance. 70% of consumers who have had a good customer service experience on social media return as customers in the future! You can use your SMS marketing list to invite customers to follow you on social media and expand your audience.
Hi [First Name], interested in the latest tips and tricks for car maintenance? Follow [Auto Repair Shop Name] on Twitter and learn 5 signs that you might need an oil change: [Twitter Link]
Hi [First Name], thanks for your recent visit to [Auto Repair Shop Name]! Follow us on Instagram for updates about upcoming seasonal promos: [Instagram Link]
7. Create Customer Loyalty Programs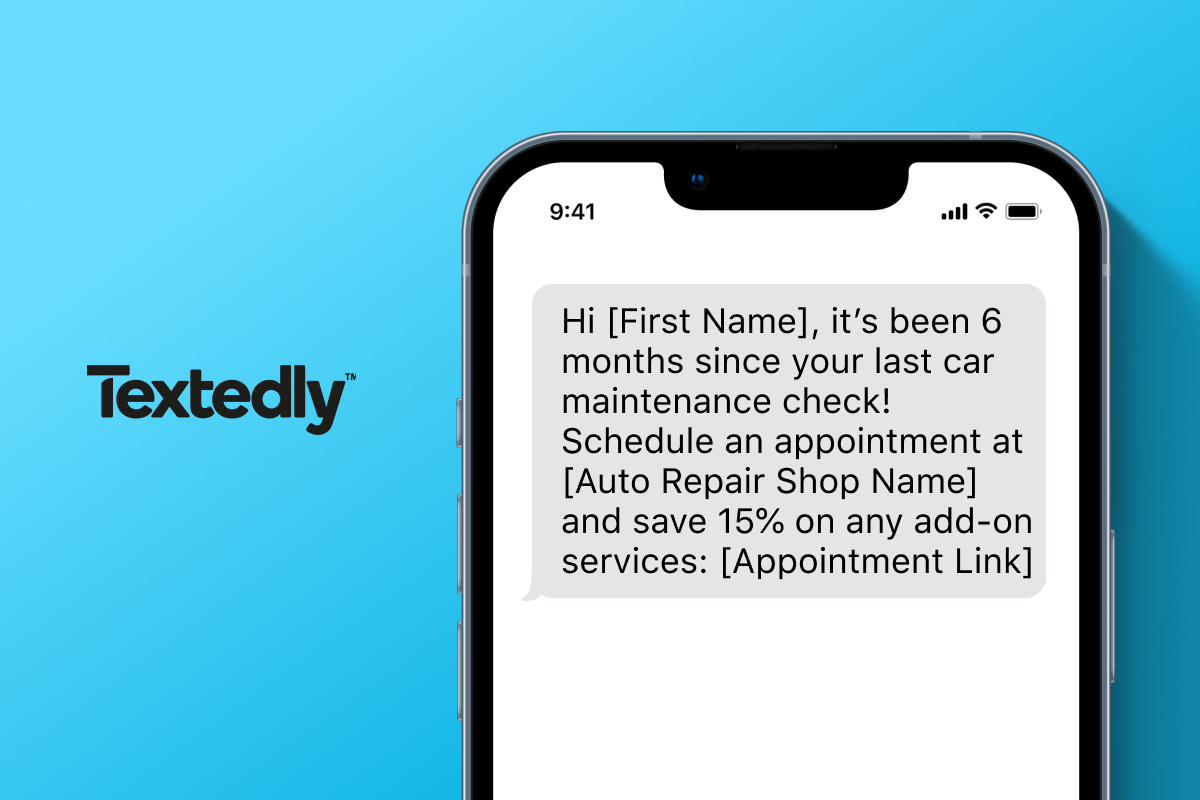 Studies show that over 72% of consumers would engage with a customer loyalty program if it were accessible on mobile. Boost your auto repair business marketing with text-based loyalty programs to nurture relationships with your best customers.
With most car owners needing regular maintenance every six months, you can offer special rewards to retain customers.
Hi [First Name], thanks for signing up for [Auto Repair Shop Name]'s loyalty program! Keep an eye out for future promos, but for now, get started with $10 off your next service with the code FIRST10: [Appointment Link]
Hi [First Name], it's been 6 months since your last car maintenance check! Schedule an appointment at [Auto Repair Shop Name] and save 15% on any add-on services: [Appointment Link]
8. Offer Car Advice Tips
Invite your customers to sign up to receive texts from your small business by sending free car advice. Consumers remain subscribed when they receive valuable and easily accessible information. Consider coming up with a list of quick tips that you can schedule for delivery to your SMS marketing list every two weeks so they remember your business.
Hi [First Name], did you know that your car needs maintenance every 6 months on average? Learn why on our website: [Landing Page]
Hi [First Name], don't forget to clean your headlights! With a bit of soap and water, you'll be able to see much better while driving at night. Read more on our website: [Landing Page]
Pro tip: Include special discounts on your landing pages to encourage customers to keep opening your text messages.
9. Thank Them for Their Business
Most importantly, always remember to thank your customers for their business. Sending a follow-up text message the day after a service shows customers that you care. You can also use thank you messages to remind clients of future appointments or ask for feedback.
Hi [First Name], we hope you're satisfied with your repair service at [Auto Repair Shop Name]. We appreciate your business, and we hope to see you again!
Hi [First Name], thank you for visiting [Auto Repair Shop Name]! Your next maintenance appointment is scheduled for [Day], [Date], at [Time]. We'll see you then!
Partner With Textedly For Your Auto Repair Shop Marketing
SMS text marketing is an exceptional tool that builds your car repair business while growing familiarity and trust. With our SMS marketing templates, you can implement new auto repair marketing ideas to help you build lasting relationships with your clients.
At Textedly, we provide turnkey solutions for your auto shop marketing needs. Our user-friendly platform offers powerful SMS marketing features that help you engage with your customers and increase awareness of your small business.
Get started with a free test drive of Textedly today!